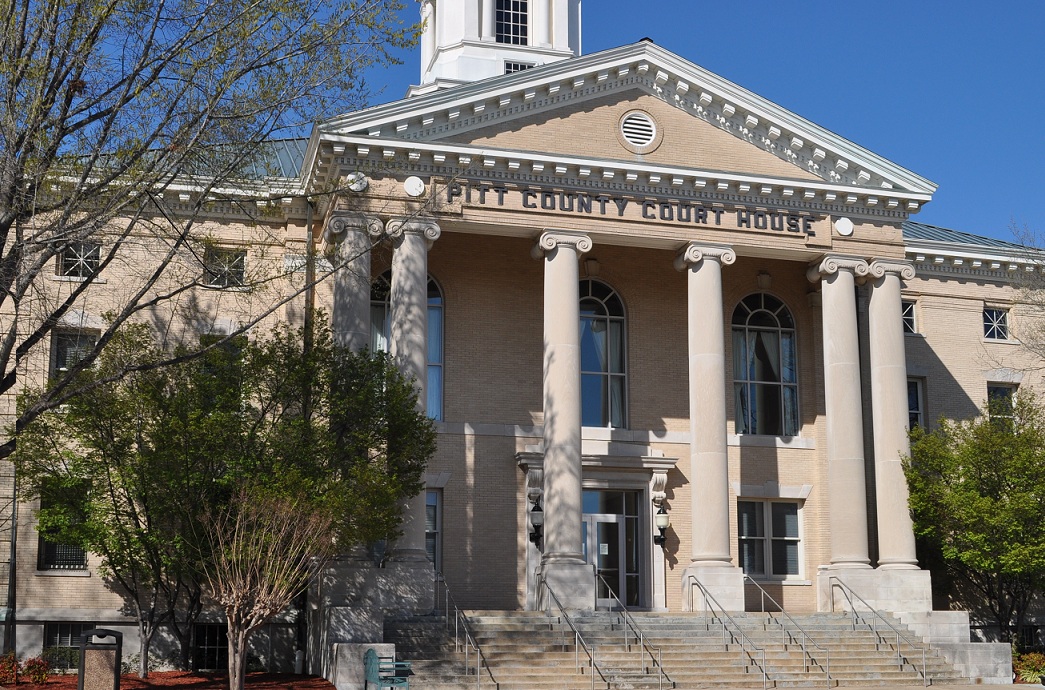 By Beth Velliquette
The Daily Reflector
Wednesday, February 18, 2015
A jury on Wednesday found the driver of a car involved in a wreck that killed a man on a motorcycle not guilty of misdemeanor death by vehicle.
Rodney Lamont Green, 40, of Greenville was on trial in Pitt County Superior Court for the death of Michael L. Taylor, 43, who died shortly after the wreck on Nov. 3, 2012.
Green was exiting the parking lot of the CVS pharmacy and Taco Bell near South Village Drive and crossing Memorial Drive when the wreck happened. Officer Billy Hill, who is trained in reconstructing wrecks, testified that it appeared Taylor was riding south on Memorial when Green pulled out in front of him.
A skid mark indicated that Taylor braked hard, then likely separated from the motorcycle as the motorcycle started to slide sideways. His body hit the driver's side door of Green's car, Hill said. The motorcycle missed the car and tumbled down the road 230 feet, he said.
Based on physical evidence and measurements and using mathematical formulas that take into account the length of skid marks, the distance the motorcycle traveled, the road surface and other factors, Hill estimated that Taylor was traveling a minimum of 49 mph to 52 mph in a 45 mph zone when his Kawasaki motorcycle began to lay down the skid mark.
Green testified that he had driven through the Taco Bell parking lot that night thinking he wanted to get something to eat, then changed his mind. He drove to the exit to cross Memorial Drive to go to a Hess gas station.
Green, who drives a delivery truck for a living and has a commercial driver's license, testified he stopped at the stop sign and looked both ways before he began to cross Memorial Drive. That's when he felt his car shift, and when he got across the street to the Hess station, he got out and saw that his driver's side door was dented. He went inside and asked the clerk to call 911, telling her something hit his car.
He then went back outside and saw people gathered in the street around a man on the ground.
To find Green guilty, the jury had to find that there was a stop sign at the exit, that Green was the driver of the car, that he did not stop at the stop sign or if he did, he did not yield to oncoming traffic or failed to proceed with caution, and that his actions were the cause of Taylor's death.
During closing arguments, Green's attorney, Daniel Entzminger, told the jury that to find Green guilty they had to find that he committed an illegal action when he entered the roadway.
"The state called five witnesses," he said. "Did anyone tell you they saw Mr. Green do anything to break the law? No, none of them did."
A witness who was at the gas station testified she had her back to Memorial Drive as she pumped gas and heard a group of motorcycles go by. A few moments later, she heard the crash, Entzminger said.
"She can't tell us any information about Mr. Green," Entzminger said. "She doesn't know."
Entzminger suggested to the jury that based on her testimony it's possible to think that Taylor was driving at an excessive speed because he was trying to catch up with the group of motorcycles.
"We have no idea how fast that motorcycle was gong before that skid took place," Entzminger said.The other witnesses, which included Taylor's wife, two police officers and a paramedic also did not see the accident and did not give any testimony about what happened, Entzminger said.
Entzminger asked the jury to base its verdict on the lack of evidence. The state did not show where Taylor was coming from, how he was operating the motorcycle, whether there was a mechanical problem with the motorcycle, or whether the motorcycle head lamp was on and working at the time of the accident, he said.
"It didn't have to be Mr. Green's fault," Entzminger said. "It could have been Mr. Taylor's' fault. We just don't know."
Assistant District Attorney Robert Broughton argued that a driver is responsible for seeing other drivers on the road.
Broughton explained to jury members that they did not have to find that Green intended to run the stop sign.
"It's not whether you meant to do it. If you did it, you're guilty," Broughton said.
Broughton said that even if the jury believed Green stopped at the stop sign, if he failed to yield to oncoming traffic or failed to proceed with caution, he violated the law.
"'I didn't see him,' is not an excuse," Broughton said.
Even if Taylor was going too fast or the headlight was not on, it was a well-lighted area and Green was responsible for seeing him, Broughton said. He asked the jury to find Green guilty.
The jury deliberated two hours before returning with a verdict of not guilty.
Contact Beth Velliquette at bvelliquette@reflector.com or at 252-329-9566.
http://www.reflector.com/crimerescue/driver-found-not-guilty-fatal-crash-2799123