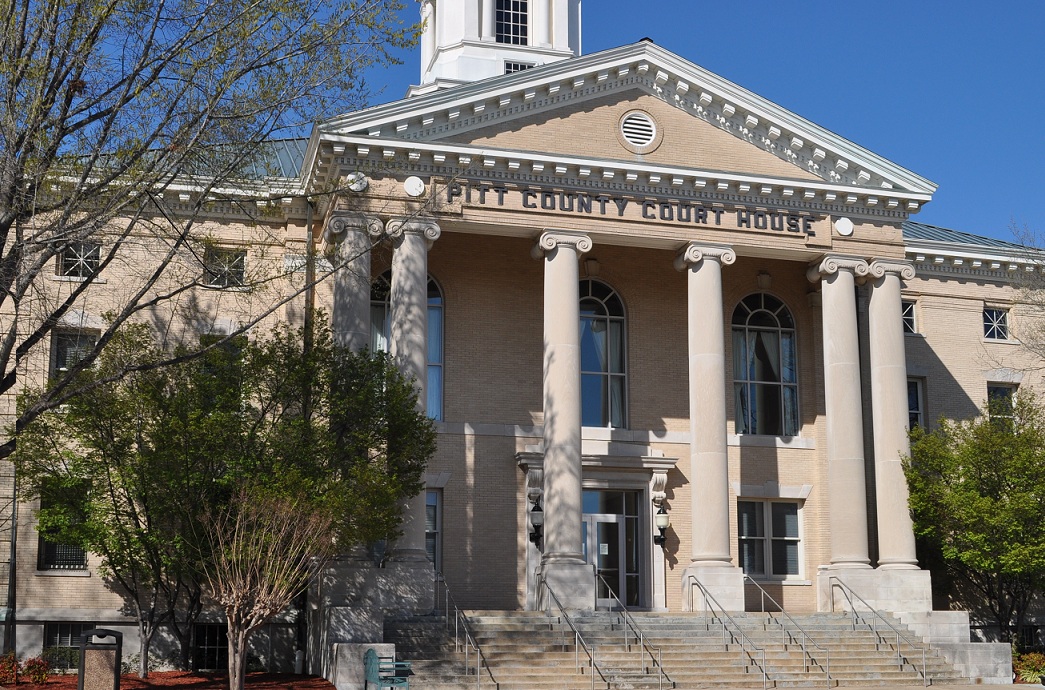 By Beth Velliquette
The Daily Reflector
Tuesday, August 11, 2015
A 19-year-old Greenville man had charges of murder and robbery with a dangerous weapon dismissed Monday when he entered an Alford plea to lesser charges in a plea deal.
Demetrius Dontell Smith pleaded guilty to accessory after the fact to robbery with a dangerous weapon and possession with intent to sell and deliver marijuana during a hearing in Pitt County Superior Court. He took an Alford plea, meaning he did not admit he was guilty but agreed he would be treated as though he was guilty.
Smith was a key witness against his cousin, Jahrheel Ikle May, 19, last month when May was on trial for first-degree murder in the death of of Anthony Antoine Johnson, 38, who was shot to death in his front yard on Jan. 2, 2013. A jury found May guilty of first-degree murder, and Superior Court Judge Rusty Duke sentenced May to life in prison without parole.
Smith testified that he and May had been texting each other about breaking into another man's house and stealing pills while the man was away from the residence. However, the man came home earlier than expected, and they called off their plans.
Instead, Smith said he drove to May's apartment on Grovemont Drive to hang out with May and other friends.
Smith testified he, May and other friends smoked pot on the back patio of May's residence and then went inside. Smith said May asked to borrow his car to go to the store, and he returned a short time later. Soon after they heard sirens.
Another witness testified she saw two men struggling in a car in front of Johnson's apartment, then saw a man shooting at Johnson as he struggled to get to the door of his apartment. Johnson died on the doorstep from multiple gunshot wounds.
Another witness, who was in the juvenile section of the Pitt County Detention Center with May after he was charged with murder, testified May admitted killing Johnson.
During Monday's hearing, Assistant District Attorney Anthony Futrell recounted how Smith initially did not tell investigators about the plan to break into a house and steal pills. That is why he was offered a plea deal that required him to plead guilty to the charge of accessory after the fact.
Futrell also told Superior Court Judge Wayland J. Sermons Jr., from Beaufort County, that while police were investigating the murder, they obtained a search warrant to search Smith's home, and they found seven small bags containing marijuana.
The charges of first-degree murder, robbery with a dangerous weapon, conspiracy to commit robbery with a dangerous weapon and maintaining a dwelling to keep, sell or manufacture a controlled substance were dismissed.
Smith's attorney, Daniel Entzminger, said that Smith has been cooperative and polite, and that he has the support of his family. He graduated from J.H. Rose High School and has been involved in two job training programs.
Smith had no convictions on his record and was sentenced as a Level 1 offender. The judge found three mitigating factors — that he was a passive participant, that he had a strong support system and that he testified truthfully on behalf of the prosecution.
Sermons sentenced Smith to 10-21 months in prison, but he suspended the sentence and placed him on supervised probation for 24 months. He ordered him to serve an active term of five months in the Pitt County Detention Center but gave him credit for 177 days (nearly six months) for time served before he was able to post bond.
He also ordered Smith to perform 50 hours of community service, have no contact with the victim's family, pay costs, attorney fess and $600 in restitution for lab fees.
http://www.reflector.com/crimerescue/witness-murder-case-takes-alford-plea-2953385